This week I am in London, England. I am attending – and filming at – the international summit "Endangered Species: Preserving the Female Body." The event features keynote speeches, panels, workshops and video presentations challenging "the toxic culture that teaches women and girls to hate their bodies." So, keeping with the week's theme of body image activism, I hereby present you an interview with self-esteem expert Jess Weiner, founder of the Actionist Network and Dove's Global Self-Esteem Ambassador.
What is your name, age, and location?
Jessica Weiner, 37, Los Angeles, CA.
What is your profession?
By nature I am an entrepreneur and have turned my passions into a career. I am an author, self-esteem expert and founder of the Actionist Network® an online community of like-minded leaders who care about confident women and girls. I also serve as Dove's Global Self-Esteem Ambassador and am a contributing editor to Seventeen Magazine.
What did you study in school and what degrees do you have?
I have a B.A. from Penn State University in Theatre Arts and minors in Women's Studies and Classics. My college experience was really the foundation of my future career because I was able to study what I love and what inspired me and then figure out a way to make money doing it (everyone's goal, right?) My time at Penn State was amazing and I am humbled to have been the youngest person ever to have been bestowed with the university's Alumni Achievement Award in 2005 and in 2009 I went back and gave the commencement address at my college – amazing!
What was your first job?
I worked in my dad's office on and off when I was in high school but my parents did something really special and different with my sister and I when we were teens. They told us that our jobs as teenagers were to do well in school, make solid choices, and build our knowledge. That if we focused on those areas we didn't have to work jobs outside our house (except for our normal allowance chores). It was a pretty provocative approach to take being a parent – but it ended up instilling in me an incredible work ethic because I didn't take anything for granted. I felt blessed to be able to focus on my self as young woman and develop a variety of interests.
Who or what inspired you to break into your current line of work?
I really admired the work of Anna Deavere Smith and other storytellers for social change but had no idea how to break into doing what they did. I know I didn't just want to perform in plays anymore and wanted to really write my own work and eventually tell my own story of recovery from the rough time I had a teenager struggling with eating disorders, body image issues and low self-esteem.
Then, when I was in group therapy in college, I sat with 8 other women every week who all looked perfect to me but inside their stories were incredible: drug addiction, suicidal tendencies, rape and assault. And they were so powerful and raw and also bound by shame and silence. These were stories no girl ever wanted to tell – she was scared – like we all were – that people would think we were crazy. One day after a particularly tough group session I went home and wrote in my journal. And I kept writing for hours and eventually a play was born called "Wake Up World" and it explored all of the issues I was facing and hearing about. I put it on for people at school and they loved it. So I realized that I could take all of the painful moments of my life and others and use them to actually uplift, educate and inspire people. That really showed me that I could use theatrical stories and group conversations to inspire change.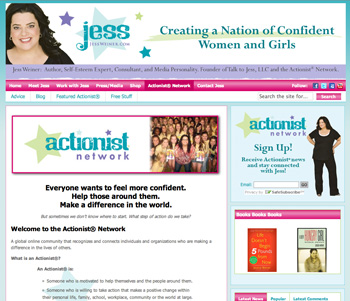 Name/describe what has been your most rewarding project so far?
I can't pick just one project because they are all so rewarding on various levels. I am incredibly proud of the growing community we have with the Actionist Network®. This online community of confidence professionals and passionate moms, mentors, and educators are phenomenal and really a vibrant voice for those seeking help and inspiration out there.
I am of course incredibly proud of my work as the Global Ambassador for Dove and the work we've done together around the world helping girls and women realize their full potential and see their beauty as a source of confidence and not anxiety.
And I am always proud of the work in progress I am, personally. I am growing, changing, expanding and maneuvering through all of life's ups and downs and finding ways to retain my confidence and in fact, grow stronger. So I guess, I may be my most rewarding project so far!
Name/describe one incident when being a woman has helped your career?
Being a woman and sharing a collective experience with other women when it comes to body image, self-esteem and confidence really connected me to a larger population of like minds out there, so I felt less alone. I also knew intrinsically what was going on in the heads and hearts of my audience so obviously that helped to inform my content and outreach.
Name/describe one incident when being a woman has hindered your career?
Early on when I came to Hollywood I had an agent tell me that I had to pick just one thing to be. I couldn't be seen as a TV host, a writer, an expert, a speaker, etc. He was trying to narrow down my brand. I asked him why someone like Ashton Kutcher could be called a multi-hyphenate (a business man, actor, producer, etc) and he couldn't really explain the difference. But I knew it was because that kind of industry sexism only allowed for women to be seen as "talent" and not a combination of talent, business acumen and wisdom.
I still feel I battle a bit of that small minded syndrome when it comes to my career in the media. They haven't quite figured me out yet.
Who is your role model or mentor (alive or dead)?
I have so many mentors and role models but I guess one of the early influences was my 5th grade teacher, Mrs. Stetson. She just let me read my creative stories in class and in turn it gave birth to the writer in me. It opened the doors to my creative spirit and let me see myself as a storyteller. She took a small step of action that made a big impact on my life.
If you could give one piece of advice to a woman starting out in your field, what would it be?
Don't be afraid to make it up as you go along. I've literally created my career as I go. Yes, it's scary and yes it's hard but it is also so incredibly rich and diverse and personal. Also, follow your gut. It's better than any GPS system, psychic reading, or friend's advice. We know our own barometer of truth – don't be afraid to follow it.
Links:
Follow Jess on Twitter
– Interview by Elena Rossini