Elena Rossini
Founder and Editor-in-Chief. Producer, Cinematographer & Editor of the Video Series
Elena Rossini is an Italian filmmaker, photographer and multimedia producer.
Her latest film project is The Illusionists, a feature-length documentary about the marketing of unattainable beauty ideals around the world. The film was selected by Indiewire as its "Project of the Day" and won the title of "Project of the Week" by popular vote. Dozens of blogs and print publications – including Vogue Italy, New York Magazine and Jezebel – have written about the film.
Elena co-founded Gender Gap Grader with Elian Carsenat – a platform empowering companies and organizations with innovative tools to measure the gender gap.
In October 2014 Rossini was selected for the prestigious Young Leaders program by the Council for the United States and Italy.
elenarossini.com
Follow Elena on Twitter: @_elena
Eve Richer
Editor
Originally from San Francisco, Eve currently lives in Washington DC and works at an environmental organization called Forest Trends. She has extensive international experience, including working on community development projects in Nicaragua and teaching English in a rural farming village in Spain. A Fulbright Fellowship took her to São Paulo in 2009, where she developed education projects and conducted cross-cultural research with colleagues in the U.S., Brazil, Argentina, and France. Prior to joining Forest Trends, Eve worked in TV production for clients such as National Geographic, Travel Channel, and Discovery. She holds a BA in Psychology from the University of Pennsylvania and speaks Spanish and Portuguese.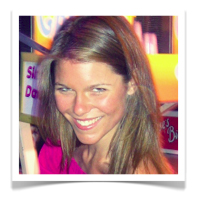 Haley Hogan
Editor; Co-Producer and Editing Assistant of the Video Series
Haley is a writer and performance artist interested in issues of female sexuality, body image, and the mediation of modern technology in relationships. She studied creative writing and art history at Yale. Her senior thesis, Slim Aarons, The Jet Set, & The Indifferent Body, discussed the postwar society photographer, Slim Aarons, in the context of the Early Renaissance paintings of Pieter Bruegel. Her performance art pieces have been installed at the Yale Center for British Art, the Yale University Art Gallery, and most recently, Paris Fashion Week. Raised in New England, she now lives in Manhattan and writes novels and screenplays.