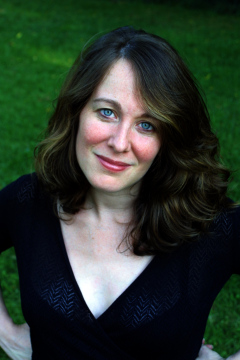 What is your name, age, and location?
Laurel Snyder, 36, Atlanta, GA.
What is your profession?
Writer (of poetry, short essays, books for kids), mom.
What did you study in school and what degrees do you have?
I have a BA in humanities from the University of TN at Chattanooga (because that was the best way to study creative writing there). I also have an MFA in poetry from the Iowa Writers' Workshop.
What was your first job?
My very first job? I worked at a produce stand in Baltimore, unloading fruits and vegetables from a truck, and then running a cash register once the trucks were empty.
Who or what inspired you to break into your current line of work?
I've wanted to be a writer since about 4th grade. So I guess I was inspired by the people who wrote the books I loved best as a kid. Edith Nesbit, Roald Dahl, Edward Eager, Ruth M Arthur, Zilpha Keatly Snyder. So many amazing authors. Also the poetry of WB Yeats was a huge influence on me at that age. Then, too, everyone at my local library, and my grandmother, who was also a children's librarian. She sent me signed copies. I think that helped authors feel more real to me, more human. Knowing that she'd met actual authors… It never seemed like writing a book was an impossible thing.
Name/describe what has been your most rewarding project so far?
Can I say my kids? My kids. I love my career. I feel very fortunate, and I go bananas when I don't write for more than a week or two, but my kids are the most immediately rewarding thing in my life. The books are never as good as I expect them to be. The kids are almost always far better.
Name/describe one incident when being a woman has helped your career?
I'm struggling to answer this question, because I think my gender has really affected the general way I approach my career (or don't). And if I say that being a woman makes me more flexible, or honest, or open than a man, I'm going to catch hell.
So I'll just offer this: I went to school, and got the right degree. I did summer conferences, and had a nice fellowship, spent some years adjuncting, and all that. But none of it really led me to a career. So then I got myself a day job working for a non-profit, because I needed health care. But then I got pregnant, and realized (to my horror) that I made less than a full-time babysitter. I could not afford to keep my job, and I couldn't think of any way to make much more money, so I quit work to stay home with the baby and freelance on the side.
And it was then that I started thinking of my writing as a career—seriously sending out my children's books to editors and pitching freelance stories to magazines. Because I made so little money and had a baby, it made sense for me to stay home, and that led to the time to take my work seriously, so that I could eventually make more money. I know it sounds a little crazy, but it feels very true. I don't think it would have been likely to happen that way if I weren't the one who could nurse the kids.
Name/describe one incident when being a woman has hindered your career?
I've felt most often discriminated against as a woman in the academic world, which makes me so sad. One would expect universities to be ahead of the corporate world, but they're not. I'd rather not name names. I'll just say that I felt, through much of my educational experience, and also as a teacher, that I had to wave my arms in the air to be noticed.
My experiences in the publishing world have been far better. Partly because I have had amazingly wonderful editors (both men and women) and partly because the children's book world is woman-dominated. And right now, I'm mostly writing books for kids.
Who is your role model or mentor (alive or dead)?
I don't really have one, in the traditional sense. What I have instead is a large group of women I think of as my mirrors. I'm part of an amazing poet-mom community, a list-serv that has made both my parenting and my writing richer and saner. In particular two women from that group—Julianna Baggott and Rachel Zucker—are amazing help. They're readers for me, and they offer publishing advice, and parenting tips, and just let me rant when I need to. Another author, Thisbe Nissen, is a dear friend I rely on for advice of all kinds. Whenever I really feel like I'm losing my marbles, or I need someone to explain the world to me, I check in with Thisbe.
If you could give one piece of advice to a woman starting out in your field, what would it be?
You can't have it all. But you can have a little bit of everything. So figure out what bits you're actually willing to give up. Carve a life for yourself with a razor blade, not a chainsaw.
I'm a great mom, but I don't bake, or clean much. I'm a poet, but not a poetry scholar. Every time I add something to the list of things I'm not trying to do, I find more energy for the things I do want to do.
And just in general, I think it's good for people (and women especially) to learn to say no to things.
Links:
– Interview by Elena Rossini