Jen is an accomplished former space shuttle technician with a unique combination of talents in the fields of art and science. After spending many years working on advanced mechanical and technical tasks at the Kennedy Space Center, she left her job in 2010 to pursue a variety of independent projects. One involves publishing a book of sunrise photos taken at the Kennedy Space Center. Another is an education program called Project Mercury Rising, an initiative she's developing to teach young people about engineering and space exploration. She founded her own company in order to move the project forward, so in addition to her achievements as a photographer, artist, inventor, and space outreach advocate, she is now also the CEO and president of Rocketopia, LLC.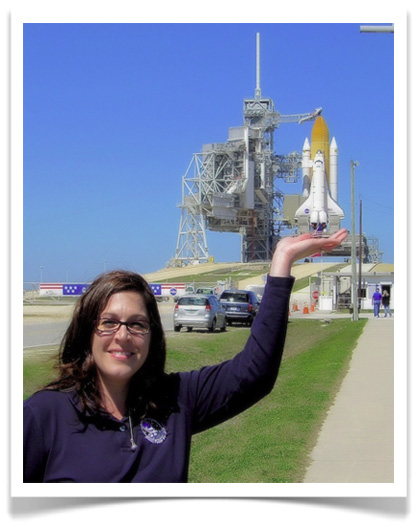 What is your name, age, and location?
Jen Scheer, 36, Merritt Island, Florida.
What is your profession?
Up until recently, I was a Space Shuttle technician. Currently I consider myself a freelance photographer and artist, as well as a space outreach advocate.
What did you study in school and what degrees do you have?
I studied aviation maintenance and hold a Federal Aviation Administration Airframe & Powerplant mechanics license. I went back to school and got a bachelor's degree in Occupational Safety and Health in 2009.
What was your first job?
My first job that was actually a career type job was working as a flight line mechanic at the Cessna Aircraft Company on their line of business jets.
Who or what inspired you to break into your current line of work?
I think aviation and aerospace were in my blood. I have two uncles who are pilots, and another who had an experiment to measure moonquakes that went up on Apollo 17. I've always been fascinated by things that fly.
Name/describe what has been your most rewarding project so far?
That is a tough question. Much of the work I did on the shuttle program would be considered exciting to a lot of people. Personally, I find projects where I get to do something creative or innovative the most exciting. An example of that would be the safety-related inventions I created while working on the shuttle program. One of these will be published in NASA's Tech Briefs magazine in the near future.
Name/describe one incident when being a woman has helped your career?
I honestly can't think of a single one.
Name/describe one incident when being a woman has hindered your career?
Unfortunately there have been quite a few of these. For example, I have been in meetings where I knew more about the topic being discussed than anyone in the room, had all of the documentation to prove what I was saying, and held a degree in the specific subject—and still I was essentially dismissed when a man with no knowledge of the subject said, "Well, I don't think that's what it means."
Who is your role model or mentor (alive or dead)?
My grandma. If I turn out one quarter as cool as she is, I'll be happy. She's an amazing woman.
If you could give one piece of advice to a woman starting out in your field, what would it be?
Know that you will be scrutinized by your co-workers and that you will have to go to great lengths to prove yourself. Don't give up; it gets better eventually.
Links:
– Interview by Eve Richer