She has been called a "culinary guru" by the New York Times. She has won many accolades, including the prestigious Cookbook of the Year award by the International Association of Culinary Professionals (IACP). In 2007, she was inducted into the Who's Who of Food and Beverage in America, a cadre of the most accomplished food and beverage professionals in the United States. Dorie Greenspan, celebrated cookbook author and food writer, has just released a new book titled Around My French Table, which has been selected by the New York Times as one of the year's best cookbooks. Here is her story.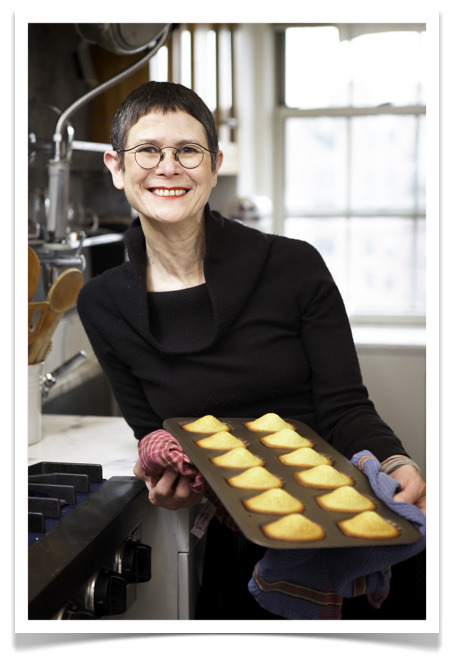 What is your name, age, and location?
Dorie Greenspan, a woman of a certain age, living in New York City, Westbrook, CT and Paris, France.
What is your profession?
Cookbook author and food writer.
What did you study in school and what degrees do you have?
I have a BA in sociology and a Masters Degree in Gerontology. I did all my coursework for a doctorate in gerontology, but never finished my dissertation.
What was your first job?
I was a secretary for the Better Business Bureau in New York City.


Who or what inspired you to break into your current line of work?
The cookbooks of French patissier Gaston Lenotre and American author Maida Heatter were my at-home inspirations. It was my friend, Maggie Simmons, who encouraged me to get out into the world, first to bake professionally and then to write about food.
Name/describe what has been your most rewarding project so far?
This is a very difficult question for me, since I've been working for a long time and have been lucky enough to have great, great projects. For me, what makes a project rewarding is the people I work with. I'm sorry for not being able to give you a 'most', but here are a few that tie for 'most rewarding': working with Julia Child on Baking with Julia; working with Pierre Hermé on the two books we did together; and working with Rux Martin, my editor on Baking From My Home to Yours and Around My French Table. Taken together, Baking and Around My French Table form what I think of as my culinary autobiography, so these two books are extremely important to me.

Name/describe one incident when being a woman has helped your career?
I can't think of an incident when being a woman has helped my career, but I can think of several women and women's group, among them Les Dames d'Escoffier, who have been important to me and supportive of me, throughout my career. Having professional friends has been vital to me, especially since I work alone as a writer.
Name/describe one incident when being a woman has hindered your career?
In 1981, I believed that it was important for me to work in a French pastry kitchen. I was having no luck finding anyone who'd take me as an apprentice, and then it looked like I had a real chance at working at a famous French restaurant in New York. The owner had told me that his pastry chef needed someone and it was the owner who set up the interview. However much the pastry chef might have needed help, it was clear from the start that I wasn't going to be the one to help him. Right after saying 'bonjour,' he told me he was looking for a 'boy'. I did get an apprenticeship shortly after that … in a restaurant owned by two women.
Who is your role model or mentor (alive or dead)?
I've been so fortunate in my life to have worked with so many really talented people who've taken an interest in my work, but the two people whom I think of as both mentors and role models are Julia Child and Pierre Hermé. I admire both of them professionally, but more important, I love both them as people: I love the way they care about other people and I love their commitment to teaching and passing along their knowledge.
If you could give one piece of advice to a woman starting out in your field, what would it be?
This is the hardest question you've asked so far. I think I'd give this advice to a man or a woman starting out in any field (and, of course, it's not just one bit of advice, but the trio's inseparable): love what you do, work hard at it, really hard at it, and say 'yes' to everything that comes your way – saying yes opens the door to surprises.
Links:
Dorie's latest book: Around My French Table
– Photo by Alan Richardson
– Interview by Elena Rossini